Editorial
"Welcome to the new-format Cnesmag, CNES's quarterly magazine, which is now more dynamic, more readable and more attractive, reflecting what we do as an agency.
In an ever-changing world, with the arrival of new players in the emerging countries and on the web, CNES is constantly adapting to the evolving geopolitics of its sector, the new paradigm in satellites and the problem of climate change.
Our satellites and our instruments enable us to study the oceans and freshwater systems, meteorology and carbon dioxide, methane and other gases and their impact on the greenhouse effect.
These issues will be the central theme of our pavilion at the 51st Paris Air Show in June and will also be the focus of our attention later in the year, when Paris hosts the COP21 international climate conference."
Yet more opportunities for CNES to demonstrate its policy of success through innovation!

Watch the mag online
When climate becomes a threat
Severe weather like the torrential rains in Chile in March and climate events like receding glaciers and rising sea level are just some of the many manifestations of our warming climate.
In the space of just two decades, satellite data have brought vital new insights into such phenomena.
CNES and its partners are constantly demonstrating the utility of space solutions in assessing the causes and consequences of the profound changes we can expect to see in the future.
 To prolong your reading pleasure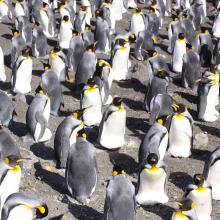 videos :  a better understood of climate on earth
Argos : King penguins could soon be extinct as a result of warming waters
Jean Jouzel gives us his assessment of how space is helping to understand the processes driving global warming
COOVIA : a smartphone app that combines GPS positioning with car sharing
CEOS : CEOS, the Committee on Earth Observation Satellites
more